Choice
Choose from M95, max response time, average response time, and cpu load metrics to scale your application from.
Savings
Tune your autoscaling to the number of dynos you need, scale up under load and down during quiet periods automatically.
Load Vision
Get insights into your application under load, which paths are performing poorly, and which are fast. Be better prepared for traffic.
---
Take Control of Service Load
123 Dyno provides the tools necessary to take control over your dyno load. All plans come equiped with load monitoring, path specific insights, path blocklisting, response logs, and a simple effective ranged based autoscaling method.

Choose different metrics to autoscale by, including m95 (95th percentile), dyno load, max response times, and average response times. Explicitly define the ranges of response times or metric values you desire. Dyno formations scale up when they exceed your threshold max and scale down when they drop below your minimum threshold.

Not feeling like configuring anything?
123 Dyno comes preset with a common configuation for most web dynos.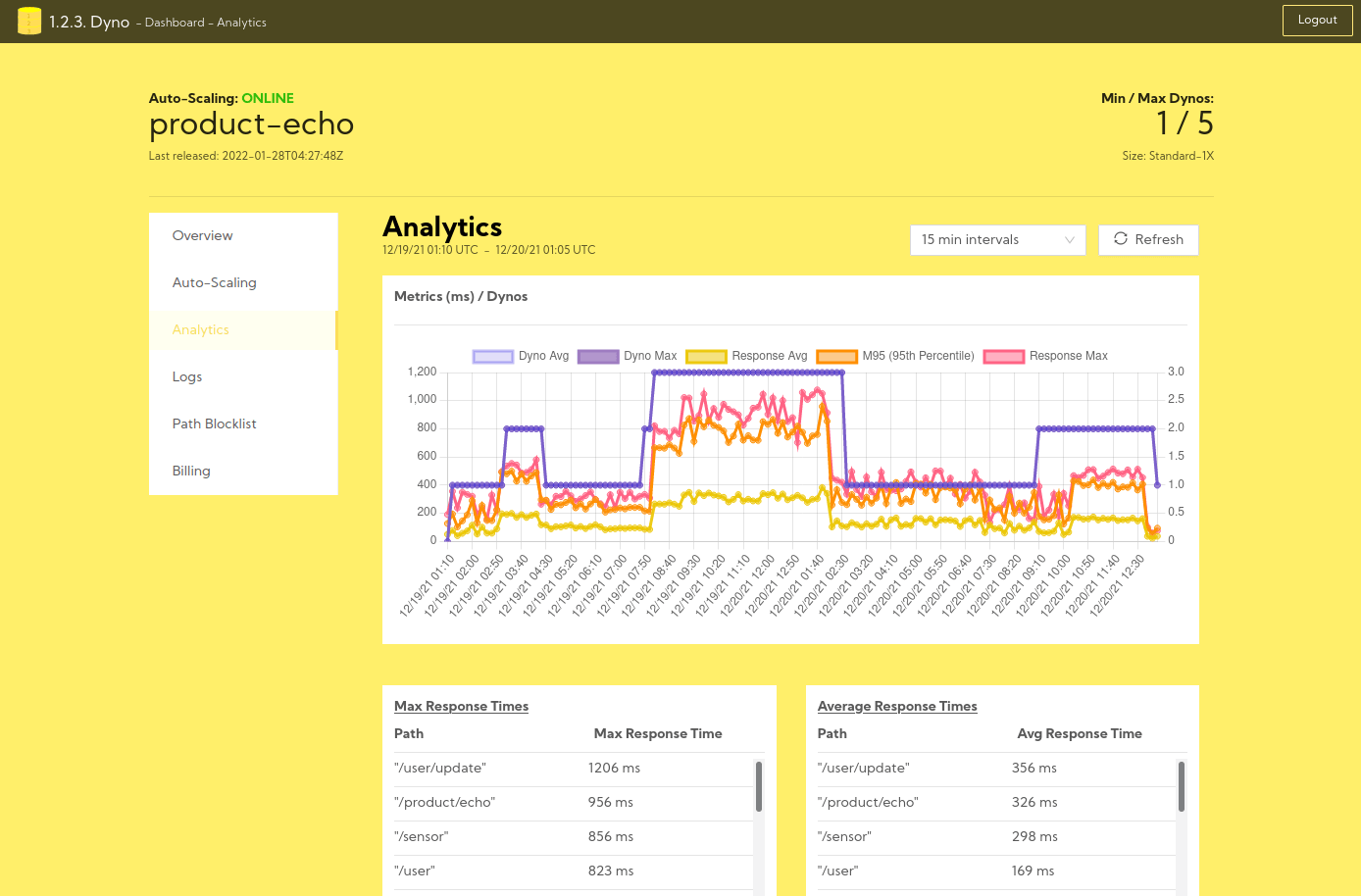 ---
Pricing Plans
Hobby
---
Scale Up To 3 Dynos

* Ticket Support
* Load Analytics
* Scale by request times
* Scale by dyno load
* 1 min scaling intervals
---
$5
Professional
---
Scale Up To 5 Dynos

* Ticket Support
* Load Analytics
* Scale by request times
* Scale by dyno load
* 1 min scaling intervals
---
$20
Startup
---
Scale Up To 7 Dynos

* Ticket Support
* Load Analytics
* Scale by request times
* Scale by dyno load
* 1 min scaling intervals
---
$35
Business
---
Scale Up To 14 Dynos

* Ticket Support
* Load Analytics
* Scale by request times
* Scale by dyno load
* 1 min scaling intervals
---
$50
Enterprise Pricing
More up-to-date pricing can be found on the Heroku Marketplace page for larger deployments.
For custom plans, parternships, data-retention, and analytics contact [email protected]