The Ultimate Extension
While Heroku scales via 95th percentile response times, 123 Dyno provides the alternative to scale via average response time, max response time, cpu load, memory usage, pruned url paths, M95, and much more.

123 Dyno custom fits your application, letting your judgement make smart choices. Sane configuration defaults included.
Load Vision and Alerting
Gain a new sense of your application under load with advanced monitoring tools and configurable alerts for web and worker dynos for any metric. Be alerted of load spikes and adjust formation as necessary.

Drop the cyberpunk routine and gain a real sense of your formation, adjust your dynos to handle the current situation.
Maximum Utilization
Be CPU greedy with each dyno or choose fast scaling lightning quick response times. Tune your autoscaling to the number of dynos you need, scale up under load and down during quiet periods automatically.

You decide the exact threhold range you want your formation to remain in, 123 Dyno does not make assumptions about your stack.
---
Install. Configure. Autoscale.
Gain the tools, vision, and insight to custom tune your dyno autoscaling night and day. All plans come equiped with highly customizable load monitoring, path specific insights, path blocklisting/pruning, response logs, rule based load alerting, and an effective ranged based autoscaling method for web and worker dynos.

Dyno formations scale up when they exceed your threshold max and scale down when they drop below your minimum threshold making sure your application always remains within a solid range you can view, monitor, and adjust. 123 Dyno works universally across languages, for every dyno type, and in every Heroku region. Just a single install.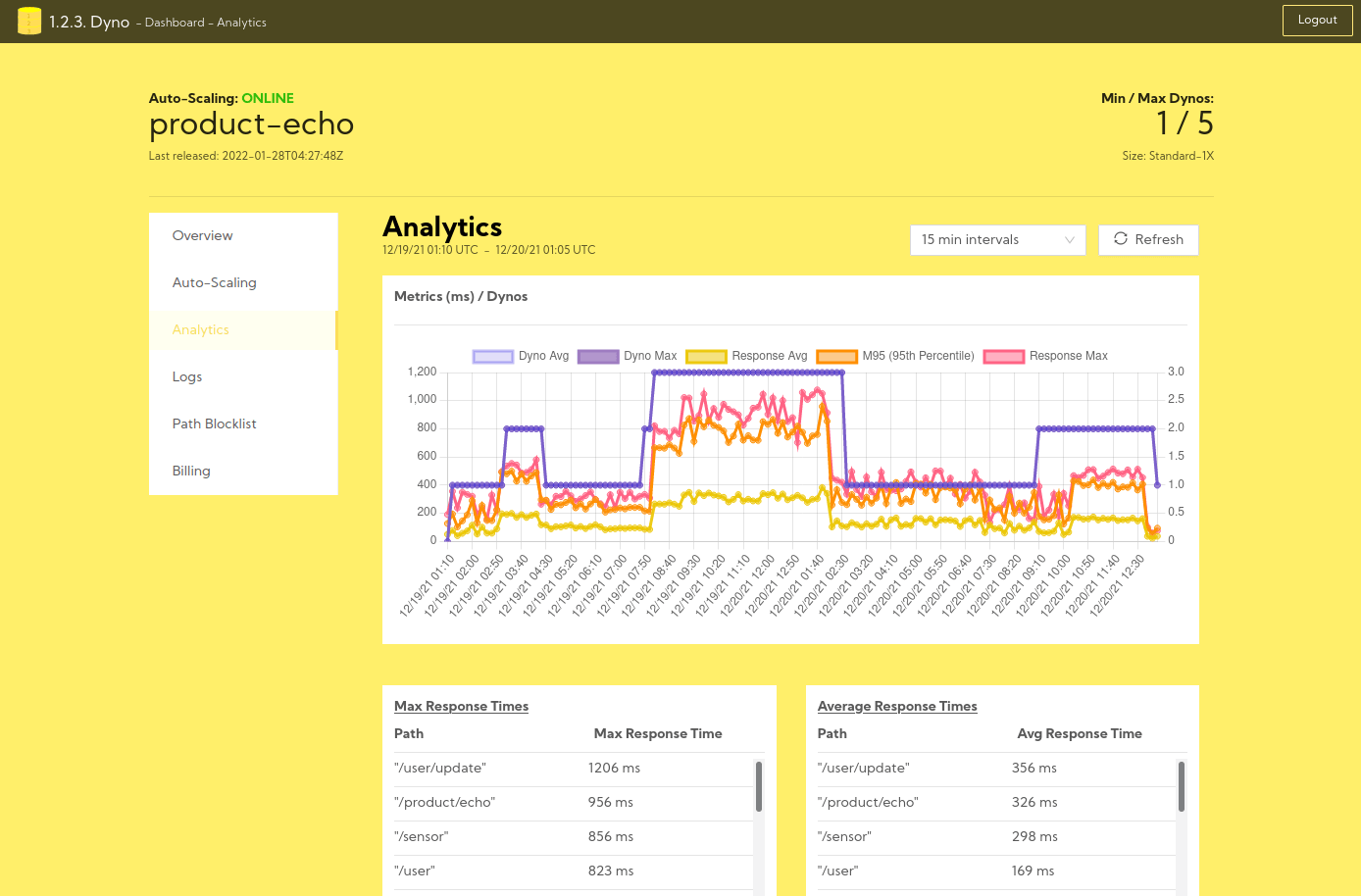 ---
Competative Pricing
Hobby
---
Scale Up To
Web Process: 3 Dynos
1 Worker Process: 3 Dynos

* Ticket Support
* Load Analytics
* Scale by request times
* Scale by CPU load
* Scale by memory usage
* 1 min scaling intervals
---
$5
Professional
---
Scale Up To
Web Process: 5 Dynos
2 Worker Process: 5 Dynos

* Ticket Support
* Load Analytics
* Scale by request times
* Scale by CPU load
* Scale by memory usage
* 1 min scaling intervals
---
$20
Startup
---
Scale Up To
Web Process: 7 Dynos
3 Worker Process: 7 Dynos

* Ticket Support
* Load Analytics
* Scale by request times
* Scale by CPU load
* Scale by memory usage
* 1 min scaling intervals
---
$35
Business
---
Scale Up To
Web Process: 14 Dynos
5 Worker Process: 14 Dynos

* Ticket Support
* Load Analytics
* Scale by request times
* Scale by CPU load
* Scale by memory usage
* 1 min scaling intervals
---
$50
Enterprise Pricing
More up-to-date pricing can be found on the Heroku Marketplace page for larger deployments.
For custom plans, parternships, data-retention, and analytics contact [email protected]